Friday night dinner in our house is reserved for our special dinner night. The kids get to request a dinner, with each child getting their turn to pick. It was Kate's turn this week, and she picked the same thing she always picks... She calls it "Rice Pie". It's similar to a quiche, but crustless-completely gluten-free.

The recipe can be customized to your personal preferences. Although I usually make it plain for the picky children, tonight I added spinich, carrots and chopped ham to see how they would take it. Success! I got veggies in their little tummies, sweet! The recipe is as follows.

Kate's Favorite Rice Pie

4 eggs
1 carton (15 oz) ricottta cheese
1/2 c. grated or shredded parmesan cheese
1 teas. dried basil leaves
1/2 teas. dried parsley
1/4 teas. dried oregano
1/2 teas. salt (less if you cooked your rice in broth)
1/4 teas. black pepper
2 tbsp. dried minced onion
3 cups cooked and cooled white rice
2 cups (8 oz) shredded mozzarella cheese

Heat the oven to 375 degrees, and spray a 9" round cake pan with a non-stick spray. Ina parge bowl, combine the eggs, ricotta, parmesan, all spices and dried onion. Stir until well-blended. Then stir in shredded mozz and rice until it is throughly combined. Pour into prepared pan and spread top smooth. Bake at 375 for 45-55 minutes until it is set in the center and the top is browned. Pull from oven and allow to set for 10 minutes before cutting and serving.

When we have this plain, we serve it with spaghetti sauce. The kids love it.

My variation tonight was as follows: Do not add basil and oregano, use a sprinkle of garlic (I don't measure, but I think it was about a 1/4 teas.). I cooked some spinich, and added about a 1/2 cup of cooked spinich and shredded two carrots. I added them to the mix before the rice and cheese. When I added the rice and mozz, I also added about 3/4 c. chopped GF ham. It cooked the ssame amount of time as normal, at hte same temperature. I forgot to add the salt, but it turned out it didn't need it since the ham was salty.

I can also see adding turkey and broccoli and using swiss or muenster instead of the mozz.

Anyway, there you are... Kate's favorite dinner. I hope you enjoy it!
As most celiacs know, rice is a completely safe foods for our diets. We use a lot of rice, but eating it plain or in stir-fries gets b.o.r.i.n.g. after a while. I am always looking for ways to serve it up differently. Cream of Rice, rice puddings, cooked in broths, added to soups, fried into balls or patties, added to stir-fries, "Rice and Cheese" instead of mac&cheese, rice pancakes, etc...
Current Mood:

full

I've been neglecting you guys again, I'm very sorry. I was on such a good post habit too. It was the holidaze y'know. Life moves too fast during this month to keep everyone updated.

So blogged in words, the last four weeks have sounded something like this: Christmas decorating, good visit with my Mama, an order for 30 pieces of pottery was completed, we had a combo Christmas/Graduation party for our friends (master's degree!), some holiday sewing was completed (on Christmas Eve, natch...), a crazy Christmas morning (there was a trampoline involved), I found my missing muse and started painting canvases again (apparently, she needed an ipod), did some non-christmas sewing, plenty of great cooking, some more painting, and some year-end accounting that badly needed done. The children have also been doing school every single day for 17 days straight (no weekend breaks-all child-led).

It's too much to put all those pics in one post, so we'll ramp up to it.

First, the pottery order that froze my fingers and kept me up way too late to properly function during the day.

While we were displaying at Memorial Auditorium in November, another artist approached us to partner with her, providing her with blank wet pottery for her to sculpt on, then give it back to us to fire, glaze, and fire again. It sounded interesting, and she is a wonderful person to work with. Her sculpture is really amazing!

Here is a pot that is completely unfired, only air-dried.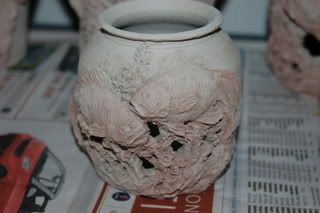 After it had been fired in the electric kiln once, then I went to work glazing all of the pots (there were 27 pieces total). I was glazing in the bitter cold-with the heater on and garage door down, it was only staying at 37 degrees that night. We were firing at the same time, and Alan kept running the dang door up and down, letting all my warm air out!
The fishies in the raku kiln. See the fins glowing?
And the finished fishes. Really really shiny, dark blue and deep red copper and some metallic teal highlights throughout.
About a third of the order completed. She sculpts mostly ourdoor scenes, so we got a lot of flowers (irises, dogwoods, wild roses), pinecones, cattails, and fish (trout, bass and betta).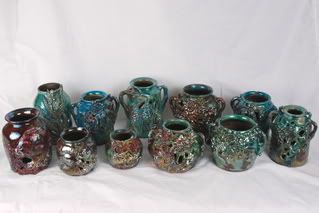 Some wild roses done in white/blush. Loved this one.
And here is a picture of the both of us doing our respective jobs-albeit during warmer weather (not from the above firings). Yep, I'm about to get a face full of fire.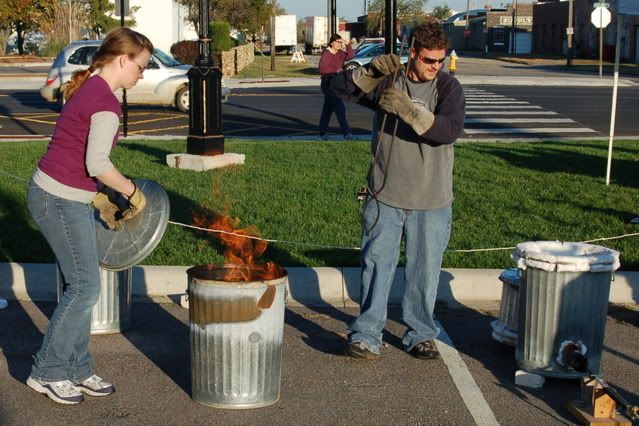 Next post--Christmas blowout.
Sorry about the size of the pics. I cannot figure out how to get photobucket to post the smaller ones I already made. Computers, ugh!
Current Mood:

good


So here is the math breakdown again...

3-strip of yeast $1.00 (Sale price)
Manufacturer Coupon -$0.45
Doubled Coupon -$0.45
-------------------------------------
$0.10 per strip
-------------------------------------
Receive Printout $0.50
Doubled when Used $0.50
------------------------------
$1.00 off next ticket

I have 25ish coupons to use. I'm going to roll this deal every night I can get out of the house and I'm ordering more coupons to use. We use a lot of yeast since we make our own bread every week (2-4 loaves a week). $0.90 moneymaker for each strip purchased to be rolled into cheap bananas this week ($0.49/lb - everywhere else is 69-89/#), sour cream (daisy $1-coup avail), cranberries (2/$4)...

I also have $15 to spend at Walgreens this week (Register Rewards and Saturday's Holiday Dollars). I'm thinking chocolate, maybe a toaster. I'll have to look at the new ad.
Dillon's (a Kroger store) is having their 10 for $10 sale this week. Included in this sale is Fleichman's Yeast strips. I have a coupon for the yeast for $0.45 off each, which Dillon's doubles to $0.90. So $0.10 a strip for yeast... But the deal gets better, because until the end of the year, Fleichman's yeast is sponsoring a catalina printout (I have refered to these before "Dillon's Dollars"). Each package of yeast spits out a $0.50 catalina good on anything in the store--and then Dillon's doubles these coupons also, making each one worth $1 each.

Alan took PG out for some Daddytime last night to get a movie. I said "Oh hey, great! I have a list since it's Tuesday night." I should insert a note here that says I always go to the store Tuesday night to get the last of the deals for the week. That way, I'm not "clearing the shelf" of a deal, but at 830 Tuesday night, i have no guilt about clearing the shelf of a deal (new ads come out Wednesday mornings).

So I send him with my list.

Item / Retail price / Sale price - coupon - doubled = price I paid

10 Kraft Singles / $2.99 / $2.50 - $0.50 - $0.50 = $1.50 each x 10 = 15.00
10 Philadelphia cream cheese / $2.09 / $0.99 - ($0.50 off 2) - 0.50 = $0.49 each x 10 = $4.90
4 Birds Eye frozen Peas / $1.99 / $0.99 - $0.35 - $0.35 = $0.29 x 4 = $1.16
4 Birds Eye frozen Corn / $1.99 / $0.99 - $0.35 - $0.35 = $0.29 x 4 = $1.16
2 Birds Eye Spinich brick / $1.25 / $1.25 - 0.35 - 0.35 = $0.55 x 2 = $1.10 (not on sale, just coupons)
6 C&H 4 lb white sugar / $2.79 / $1.69 - $0.35 - $0.35 = $0.99 x 6 = $5.94
6 C&H Brown sugar / $2.09 / $1.50 - $0.35 - $0.35 = $0.80 x 6 = $4.80

For a total of == $34.06 pre-tax. The retail total was $97.50, for a savings of 65% off retail. The frozen veggies were 85% off retail, so that was a GREAT DEAL. I hit that deal several times-Friday night, Saturday, Sunday evening, and last night. Our freezer is stocked up, and the expiry dates are in 2010 (2 years out). WOOT!

The cream cheese and sliced cheese can be frozen, although the cream cheese isn't really spreadable after its been frozen, it can still be melted into a dip or sauce. Cream cheese has a 5-6 month refrigerator life unopened, 10 days after opening. It can stay in the deep freeze for about a year.

I store the sugar in an indoor cabinet, inside ziploc bags to prevent moisture and/or bugs from getting to it. I now have ~40 pounds of white sugar, and ~30 pounds of brown sugar from this deal. That is nearly a year's supply for our family, since I make nearly all our food/treats from scratch.

~~~~~~~~~~~~~~~~~~~~~~~~~~~~~~~~~~~~~~~~~~~

Did I get a chance to tell y'all about the cows I found? I found LOCAL happy cows (aka cows that have lived their entire natural life in an open field 10 miles away, not a feedyard; have been fed grain and grass, not bonemeal; and have only received the antibiotics that they needed to fight infection and not preventative ABs; and are synthetic growth hormone-free = happy cows!!!). The best part is that the beef is only $3.50 a pound if you buy a quarter cow (about 225 pounds). Non-certified organic free-range beef (the farm is working toward certification) for $3.50 a pound?!?!?! Crazy Cheap. So I am working on my basics stockpile this week, but next week half of the grocery money will go toward a smaller $100 bundle of beef (about 30 pounds) to test out their beef. After that, I will be saving back ~$50 a payperiod to go toward a full quarter bundle.

I know that this seems a bit, umm, odd to gather food up like I have, and the coupons take some getting used to... But over the last two or three months I have been able to gather enough food into our house, at greatly discounted prices, to fully feed my family (with variety) for nearly 4 months if we suddenly needed to cut back our spending for whatever reason (with the bad economy, job loss is highly likely) without exceeding our normal grocery budget. I feel the need to do this especially since we have a special diet to follow, and we sometimes require specialty foods that cannot be purchased off the shelf in this town. I have to order our speciality flours direct from the mill, and to get the best price on the GF noodles, I order them from the web. What if there was another UPS strike like there was few years ago and I couldn't get deliveries for a couple of weeks? What if there was an ice storm and UPS couldn't drive down our road for three weeks like last year? I keep a two month minimum supply of those foods available so I don't have to worry about crap like that.

I also believe that we need to be prepared for an ice storm BEFORE it hits this year, and not have to scramble for supplies two days before the storm hits, or as is often the case, the day after it hits. So I also gather things like gasoline (for the generator), propane canisters (for the camp stove and portable heater), extra propane for the grill, lamp oil (can you believe the entire town sold out of this last year?!?), candles (Glade candles w/ coupons, also tealights), lighters/matches, batteries, flashlights (HomeDepot, Black Friday=6 flashlights *LED-style* with 18 AAA's for $9.97), ice melt (aka salt), kitty litter, dog and cat food, bottled water and water filters for the brita picher (if we lose electricity, we lose water-our rural water district has no generators for their pumps). We also have the supplies to hunt and fully process a deer into the freezer (butcher kit, freezer paper/tape, freezer bags, dehydrator, vacuum sealer, grinder for my KitchenAid to make burger). I only keep a weeks worth of disposible dipes on hand though, which would give me enough time to fricking potty-train PG (she is proving more stubborn than Sam, UGH)-at the very least, I would have time to make soakers (absorbant liners) for her training panties. I do keep a large supply of baby wipes around for easy cleanups (no power = no water = no shower = baby wipe baths).

I only have a month's supply of canned fruit/applesauce, beef, chicken, tuna, and rice so this is the next area I am concentrating on... I have a two month supply of canned beans and peanut butter, and about a three month supply of Rice Chex (that grows by two weeks each time I go to Walmart). I have only been spending a total of $500 a month on groceries while gathering the extra food, which will drop to $200 for fresh milk, fruit and veggies (salad doesn't freeze, LOL) as soon as I get a better cushion in my pantry. That will be a huge relief when that happens.

"Be Prepared" is the Boy Scout motto. How prepared are you in case of a hurricane or ice storm? Can you live out of your house for three days without going to the store for neccesities? How about a week with no electricity? Can you live a month without any income in case of job loss? (even if you got a new job right away, there would still be some downtime before you received a new paycheck.) Would you be able to locate all your important papers in 30 seconds or less in case of house fire? I'm talking about insurance papers, SS cards, birth certificates, immunization records, marriage certificate, name change documents, mortgage papers, list of bills and creditors with phone numbers, Web addresses, logins, and passwords, along with cash and your debit card, extra checks and IDs? Do you own a fire extinguisher and know how to use it? Can you perform basic first aid, advanced first aid and/or provide basic life support in case the ambulance takes 20+ minutes to get to your house? Do you have liquid benedryl in case of severe allergic reaction? How about tylenol, ibuprofen, pepcid/tums/pepto, sudafed, ace bandages, gauze, medical tape, bandaids, superglue, a minimum 2 week supply of all regular prescription meds, diabetic testing supplies if needed, antibiotic ointment (Neosporin), Lotrimin or other yeast-prevention creams, rubbing alcohol, hydrogen peroxide, cotton pads/balls, baking soda, gentle soap (like Ivory, Dove, glycerins), washclothes? Do you have a "car kit" that has jumper cables, basic hand tools (screwdriver, adjustable wrench, small rachet set, light hammer), non-pershiable foods (granola bars, fruit leathers, beef jerky, single serve PB, crackers), change of clothes, mittens/gloves, ice scrapers, water bottles, hand wipes, small 1st aid kit, copy of your health insurance card/ID/emergency contact info, blanket/throw?

You can't be prepared for every disaster that comes your way, but you can try to have the majors covered. This falls under personal responsilbility--YOU are responsible for you and yours, not the government. Recent disasters have shown us that it may be three to seven days before FEMA gets their shit together enough to deliver necessities to areas that need it. Grocery stores only keep a three to five day *normal* supply on their property, but the shelves are quickly cleared in time of emergency. The government is there to ASSIST you in time of need, not to BAIL YOU OUT (Detroit-can you hear me?).

Anyway, now you have something to think about.
Current Mood:

satisfied

And toy catalogs runneth over in this house. Big boy toys, little boy toys, big girls toys, little girl toys, mommy toys (kitchen equipment-get your head out of the gutter!), daddy toys... Then include the Black Friday ads-Target, Walmart, Toys-R-Us, Kohls, Home Depot, Gymboree... All trying to get a portion of my holiday shopping dollars. A person needs a strong rudder to guide themselves through the holiday season.

Last year, I found a Victorian adage that read: "Something they want, something they need, something to play with, and something to read." So I'm not convinced of the origin of the adage, but it has a great sentiment anyway. Don't go overboard. Parents these days are made to feel like bad parents if they don't buy every single el cheapo, made-in-China licensed plastic toy that Walmart sells. I stopped this trend in our house by utilizing this poem. Birthdays and holidays have been much easier for me to think about, less overwhelming. Sure, we still get a couple of those plastic MIC toys (because its really hard too avoid them 100% and Paigey loves the Wonderpets, LOL!), but the focus is not on trying to get every single item in the store anymore.

For Sam, this ends up being really easy. "Something they want" LEGOS! Since there is a huge price range on these, I am going to poke through the Black Friday sales to get the "best" one. Then again, he may end up getting someones Ebay'ed Legos too. Good for the environment that way, recycle. "Something they need" - He needs a new coat (Walmart $8 BF Sale, or Gymboree $10 BF sale-depends on who has the right size) and new jammie pants (which I just need to make, serger fixed now, yay!). "Something to play with" - Monopoly. He's ready. I'm ready. It's already sitting in the closet, and I want to PLAY! He saw the commercial this week and has been excited ever since. "Something to read" I am ordering each of the children a box of books from Ebay. Average price of children's books on ebay is $1 a title in a lot of 10 or more. Chapter books are sometimes a little more ($1.25/title, I won't pay more than that), as are "specialty" books-like the DK Eyewitness books (around $1.50/title, still a good deal).

Kate is giving me fits... She is at this fine line between Big Girl and Little Girl in terms of toys. She has grown so much mentally over the year that preschool toys are not really her thing anymore, but I will not buy into the Hannah Montana/Bratz/High School Musical crap. "Something they want" - Probably going to be the "Sleeping Beauty" DVD and coordinating Disney Princess Aurora doll. "Something they need" - She also needs a coat, which will be purchsed on BF. I am also making her a nightgown from my flannel stash. "Something to play with" - Kid K'nex. She has been playing with Sam's old K'Nex (think modern tinkertoys), and has been creating new shapes, and following the provided directions for their pre-determined shapes. "Something to read" Again, I am going to get a lot of books from ebay for this requirement. The limit is going to be $20, which is the cost of one good book (retail price) from Barnes and Noble.

Paigey is sooo happy. Santa is real to her this year. She asks me everyday if we can have a "kwris-mass-twee wif a Snoopy on it today?!?!" (Someone has been watching too much Charlie Brown Christmas). She has declared that she is only allowed to receive "gween pwesents" (same requirement on her birthday, LOL). Fine, green paper it is then. This is going to be soooo much fun!!!! "Something they want" The girl wants the "Wonder Pets Fly Boat", so it's coming home Friday. Since her birthday, she has been making do with a flyboat made from a shoebox lid, but she saw the TRU commercial with the "real" flyboat on it, and she neeeeeeeeeeeeeeeeeds it. Thanks TRU. "Something they need" - Well she already has a nice coat, so that's not needed. She will get some jammies by me, and I found some yarn to crochet her a scarf for her coat. "Something to play with" Oh, when Sam was doing his Santa list, she declared she wants the rest of the Backyardigans stuffed critters (we are missing three of five). So I have a hunt coming on, wish me luck. "Something to read" Again, I will order a box of books from ebay for this one. Probably Little Golden Books.

So this is my plan for my kids... I know I will be getting requests for their "lists" in the next week or so, so I wanted to put it here. Things my kids LOOOOOVE. Sam LOVED his dinosaur puzzles. LIke the balsa wood T-Rex skeleton (loved it!) from the Dollar spot at Target, or his "Dig a dino" fossil kit. Loved it. Kate loves little pretties-small fairy dolls (think the small Tinkerbell fairies), bracelets, reading/writing/coloring, animals, etc. She can do 48-piece puzzles, if that's helpful... Paigey loves to pretend: think dress-up, play kitchen, Backyardigans/Wonder Pets, dancing, Little People stuff, etc. Maybe a "real" Fisher-Price doctor kit (can you believe we still don't own one?). Oh, and she wants some new puzzles in the 24-piece range, she requested Elmo.

Also of note: MAJOR MILESTONE REACHED. We now have children that do not put toys in their mouth, so "small parts choking hazards" need not apply.

Games they may want include Sorry, Yahtzee, Memory-backyardigans version, Connect Four, or Boggle (more for Sam). The list of games we already own is as follows: Scrabble Jr, Backyardigans board game, Lucky Ducks, Cranium Cadoo, Chutes and Ladders, Candyland, Battleship Travel, Clue, Chess/Checkers, Mancala, Uno and Monopoly (this Christmas). Adult games owned include; real Scrabble, Trivial Pursuit (20th anniversary version), Who Wants to be a Millionaire, Wit's End.

If you want to get them DVDs, then please try to find educational ones for us to view, not Nick Jr or Disney movies (we have plenty)... Like from the National Geographic or Discovery Kids store. Our library sucks and doesn't have National Geographics on DVD, just VHS, which we can't use. The kids love nature and animals and they love learning about new areas of the planet and have loved the couple of DVDs I have found in clearance bins. History, geography, animals, plants, factories - subject matter can be as varied as you can find. This guideline goes for book finds too. Anything goes, as long as it has a learning slant to it. Please, no Harry Potter books-we just aren't there yet.

------------------------------------------------------------------------------------------------------------

I have a lot to accomplish before Christmas morning gets here. Absolutely everyone on our lists is getting a handmade present-whether it be pottery or something that comes from my sewing machine or crochet hook. The kids are getting jammies; Paige, a scarf. Alan is getting jammies and a scarf to match his new coat (He doesn't read this, I'm safe, LOL). I have several items made for others already, and Alan has been throwing again (finally). If you have any pottery special requests, we must know by the end of this weekend to allow for drying and firing time. Our backlog of projects has been cleared, nearly all ready for delivery!

Next post is going to be about HC and this month's show developments. Stay tuned.
Current Mood:

cheerful
In honor of the new mothers popping up in my family, I have decided to do a "baby bargain" post. Now, some of you are going ot look at these things and say "Whoa, that's no bargain" but trust me, even if the price tag is high, it is worth it not to screw around with the cheaper version. I even included a list of "Don't waste your Money" items.

Pregnancy Must-Haves

Lemon Drops - The old-fashioned kind that your grandmother used to have in her candy dish, preferably by Brach's. These are good for keeping the nausea at bay. Docs recommend gingerdrops/lollipops, but lemon is also recommended and it did help with me. Lemon Drops and Lemon Starburst (There were some days that this was all I could eat with Kate). It's a cheap trick and if it prevents one trip for toilet worship, then it is worth it right?

Under the belly Jeans - Best Invention EVER. No more pregnancy panel pants that refuse to stay up. No more overalls and cutesy nautical outfits. You can wear real clothing, and real-looking jeans. You don't even have to wear a baby-on-board t-shirt anymore (unless you really, REALLY want to). Check out Target for cute maternity clothes. Or my ebay account.

Support Belt - You probably won't need this until your last couple of months, but if you start having low-back or sciatica pain, you will love this ugly accessory. It makes those walks must more bearable.

Bella Bands - This seems like a gimmick, but I loved these things. I had two - Black and White (they have several colors). They were helpful in covering the support belt and to cover the elastic band of the jeans or to prevent your back/belly from being exposed to the world. It also was somewhat tight enough to keep my looser pants up.
Don't waste your money

"Fetal Heart Monitor" aka "Bebesounds" - No, do not buy. At least, try it out before you commit to buying it becuase the one we had was worthless. A stethoscope would have worked better than the one we had, and can be found for $10 and not the $30 we paid for our "monitor". I know you want to be able to hear your baby's heartbeat, and it is reassuring for a nervous mommy, but these things
do not
work the same as the one at your doctor's office and will end up frustrating you more than it helps. Trust me.
"Mommy Sounds Bear" - Yea... I have never found a baby that was soothed by this thing. I have one if anyone wants to try on their baby, but please don't spend the money for one. Not a bargain.
"Baby Eats" handbook - Again, I have one to share with anyone who wants it, but you do not need a 200 page book to tell you how to cook, steam and smash carrots. There are a few recipes in there for older babies, but any mama that has spent any time in the kitchen doesn't need this book to make soup.
"Angel Care apnea monitor"
- AKA the one that goes under the crib sheet.
NO. DO NOT BUY.
IF your baby has breathing issues (Paige did, and I will
never
forget the look on her face when she stopped breathing), the hospital will give you an apnea monitor that straps to the baby's chest to monitor their breathing. The one that is available in BRU (Babies-R-Us) is a piece of crap marketed to worried moms. If apnea is an issue, the hospital grade one is the one that you want.
Diaper Genie - Good in theory. I appreciate the idea. But the reality is that unless you run a daycare, you will not fill the bin for a week, and then you have a week-old, dirty, stinking diaper sausage to deal with. **puke** So, if you are planning on emptying the thing everyday, sure, spend the money. But I have to tell you that the refills are expensive (and annoying), and once I got rid of the Genie, I went to a small "bathroom sized" trashcan lined with several Wal-Mart sacks. I would wait until the end of the day, or if it was too bad, then I would tie up the sack and take out one (very small) sack of stinky trash. It was MUCH more efficient (and less stinky) than the Genie. Really.

Newborn MUST-HAVES
Changer - You will want a specific place to change the diapers, and make it nice and functional because you will spend a lot of time standing at this thing in the first couple of months. It needs enough space on top to have the wipes and other acoutriments within reach while your other hand is on the squirming baby. And the trash can needs to be right next to it. A changer needs to be stocked with burp rags, waterproof changing mats, dipes, wipes, powder, desitin, aquaphor/KY Jelly, and a couple of toys for the baby to hold when you are dealing with a "messie".
Ring Sling - I promise this will change how you view life int he first couple of months. Babies love to be held and snuggled, and this allows you to hold and snuggle hands-free. I had the "baby backpack" variety of baby holder, and struggled through using one for my first two babies before I discovered the sling. I finally got one with Paigey (aka PG), and it helped her to learn how to breath (she matched her breathing to mine) and eventually she was weaned off of the damn apnea monitor. I got the one from
www.zolowear.com
in a cotton stretch, and they have them available in silk too. They are gorgeous, and even though you may choke when you see the price, it is worth every stinking penny I paid for it. We were broker than broke when I bought the thing and it was by far the best baby dollars I ever spent on gear for the kids.
A place to set the baby with built-in entertainment - Actually, several places that you can rotate the baby through. For me, this included a "bouncer" type chair, a play mat with dangling birdies, and a swing for the first couple of months. They now have a combination bouncer/portable swing - which I would recommend in a heartbeat even having never used one. The full-size swing takes up so much space, and it is a shame when you can't really transport the thing over to gramma's house. The Bouncer/Vibrating chair is great for babies with tummy issues-it settles the bubbles out. The combination of these two items into one object is great. The play mat is good for when you need to run a load of laundry (or potty solo). Typicaly there is an overhead "mobile" type enterainment feature with dangling toys, and then the mat has several colorful areas of play, usually also with attached toys. When the baby gets to "Sitting up" stage, the playmat/swing/bouncer can be replaced with an Exersaucer and a Bumbo (more on that in a minute). Do not use a walker if you have stairs or do not have hard floors. The wheels don't roll on carpet very well, unless you have commercial style carpeting (and if you do walker on carpet, watch out for Super-Static-Cling Baby).
Portable Crib - Yea, I know. You have spent good money on that crib and the bedding set, and it is ADORABLE. Just don't count on it being used all that much in the first few months. The portable crib (aka Pack-and-Play) with drop in bassinet fits much better into the parents bedroom and can be taken to Grandma's or daycare, and is good for a quick naptime. Good news-they now come in colors other than navy blue.
Bumbo - OK, this initially seems like a just another $40 gimmick, but my physical therapist recommended that we get one for neck strength, so I did (grudgingly). It was really handy! It props the baby in a sitting position, and can be used as a portable high-chair in restaurants or at Grandma's. You won't need it until the baby has really good neck control (around 3-4 months), and can be used as a feeding chair until the baby is self-feeding (around 7-8 months) and needs a tray to chase Cheerios around on.
----------------------------------------
-------
OK, my brain is taxed, and I need to get on lunch for these kiddos (it's a tortilla experiment again-I WILL eventually figure this one out!).
Do you have any "Can't live without it!" baby gear that you always recommend to a new mom? How about a "Don't waste your Money!" object? Leave me a comment and tell me all about it!
Current Mood:

ecstatic
One of my personality requirements is to be knowledge-gaining constantly. I mean, every second of every day. I have figured out how to read and do housework at the same time. I have figured out how to read and sew simultaniously. I am schooling the children while reading schooling websites or books. I read couponing and meal-planning websites while doing my own grocery lists and meal planning. I read anything I can about celiac or cooking. I search for art sites and books. I search for children's books and I read them outloud multiple times a day (and I pre-read every book I read aloud). So I want to share with you some of my favorite blogs/sites that I visit weekly.
Schooling:
World Book Curriculum Guide/Checklist-
The World Book encyclopedias put out a listing of what subjects are covered in each grade level, a sort of checklist for when you learn about dinosaurs, or counting by 2's or multiplication, AND it is not affliated with any curriculum company. This is a must look for any homeschooling family.
The Teacher's Corner
- This site has a monthly calendar with "Today in History" information and daily journal prompts. For example: today is National Clean out your Fridge day, while tomorrow is Georgia O'Keefe's birthday (so we will be looking at her paintings for art history). A wonderful homeschooling resource, with full lesson plans with worksheets available.
Teacher Created Reources
- This site has a monthly free e-book to download that is tied into that month's "theme" (ex: Holidays in December, Pilgrims/veterens in november, etc.), and they have a fairly extensive list of free lesson plans available also. They have most of their books available in PDF for immediate download, and all of the e-books have at least 4 preview pages, so you can see what you are buying before giving up your CC info.
The Incredible Art Department
- This site is put out by Princeton Online (yes, THAT Princeton), and is an incredible wealth of art lessons and plans for all grade levels, K through 12. Not to mention their opening page is filled with DaVinci sketches (which I love!). Art resources, websites, full lesson plans, art activities, and art history are all covered on this website.
Nutrition Explorations
- This site is a great resource! All of the information is free (although to get full access you must give them your email address), and they spell out the entire lesson, give you all the dialogue to use with the kids, and give you all of the hand-outs to use. It goes over proper portions, food groups, and is easily adaptable to special food needs (like our celiac). I do these lessons with all three kids (even the little one knows her food groups!)--we are using the dragon line, but they have a preschool level, this is the 2nd grade level, and they have a 4th grade level program too. It is put out by the National Dairy Council.
Kansas Ag in the Classroom
- Poke through this site and you will find an entire (teacher's edition) textbook available for download (about 200 pages worth). This site is supposed to promote Agriculture in the Classroom, and is a wonderful nature resource. We have not started using it yet, but we will be in the spring.
Emergency preparedness
- This is kids information put out by the Red Cross for use for any type of disaster. You know--learning about tornados, thunderstorms, flooding, fires of all types (wildfires, housefires, etc), earthquakes, lightning, household safety, etc. Each subject has two or three different teaching levels--early elementary, late elementary and middle school level. They go into the science of the natural disaster and of course, preparedness for such a disaster. There are experiments and/or an art project for each subject covered, along with an extensive vocabulary list. The booklets are in PDF files.
Sewing or Crafting:

Cloth Diapers
- This blog post shows you how to create the pattern to make your own cloth diapers. I did not find this in time for me to use it for my kids, but I did use a similar process to draft my own patterns-and she explains it much better than I ever could. Very useful information. Also-
Diaper Sewing
has great assembly and materials instructions when it comes time to stitch 'em up.
Grosgrain
- I have a girl crush. She has two daughters that she sews for, and she does weekly to bi-weekly giveaways of her projects. I read this blog for inspiration (and to oogle her cutie-pies!). If you have a daughter that is a thin size 4 (mine is too tall), hop on her comments for giveaways!
A Dress a Day
- This summer she was, in fact, producing one dress a day on average, and had a weekly vintage pattern review/site review. This fall it has been more about the vintage patterns and vintage pattern shops, but it is still very addicting to look at. She has tons of links (sponsors) along her margins for vintage clothing or vintage patterns. If you dig vintage (and I know some of you really do), check it out.
Sew, Mama, Sew
- This is what is known as a blog ring; for those that don't know what that means, it means that several different people contribute to the blog. There are new projects posted each day, and they have "Free Fabric Fridays" fabric giveaways from their store. Their tag line says "Tips, contests, reviews and inspirations". Yes, all of that is covered and more. This week it is homemade gift projects and/or holiday decoration projects. I found a tutorial on how to make your own kitchen rugs two weeks ago.
Soule Mama
- My newest girl crush. I think I may have found my "good twin", since I'm pretty sure I have to be the evil twin (*sigh*). Her name is Amanda Soule, and she is a stay-at-home mom (check), an unschooler homeschooler (check), loves to knit and sew (check), loves to bake (check), loves to take pictures of her surroundings (check), and has managed to eek out a living doing so in Portland, Maine. She celebrates the solstices, and is spiritual but not religious (check), and has two calendars coming out and had her first book published in April of this year (book deal a result of her blog). Beautiful photography, beautiful philosophy, beautiful decor, and a lovely family. She posts the occasional free pattern, right now, she has a knit cap pattern available as a PDF in her sidebar. I would like her book for Christmas (hint, hint).
Photography Blogs

Wandering Around Kansas
- This man takes pictures of our local area. Beautiful.
Ozark Photos
- This one is based out of Springfield, MO.
Prairie Visions
- Western Kansas. Check your volume, there is Bluegrass playing in the background. She is a Greensburg Tornado survivor, having her house ripped off of the ground while she was huddled in the basement. There are pictures of the green reconstruction going on, including a LEED building that was trucked in from the campus of KU. Check it out.
Chilean Volcano Pics
- The site is all in Spanish, because it is a Chilean Newspaper, but please check out these photos. The caption is the same for all the pictures and translates as "Thunderstorms (in) the eruption of the Chaiten volcano. The beauty of two phenomena of nature. An electrical storm in the giant column of ash that rises from the volcano Chaitén and reaches to a height of 14 kilometers." It's not a perfect translation, but you get the idea. Gorgeous.
La Terre vue du Ciel
- The Earth from Above, Yann Arthus Bertrand. His photos have been appearing in the National Geographic for years now--I was so happy to have found his website! He combines photography and hot-air balloon flight to discover his shots, and executes them in a wonderful way. I've been an admirer since I was a little girl, spending Saturday and Sunday mornings reading the National Geographic. He is French, so the website is in both French and English. Don't let that scare you off. (Did I ever share that I was nominated to be "Most likely to take National Geographic photos" in high school? I was, and would still love to do this someday. Someday I will, I know it).
Couponing Sites

Taylortown preview
- This site gives you the list of the coupons that should be appearing in your paper. Worthy of note: Coupon denominations vary around the country, so while one region might get a 50cents of 2 coupon for rice this week, another region might have received a $1 off any one in a different paper. It is usually worth a search on ebay (but wait until Monday to buy them, becuase it takes the clippers a while to cut and post all the coupons). She typically has the new list up by Wednesday or Thursday for the upcoming weekend paper.
Hot Coupon World
- For matching coupons to specific store deals, check out the forum on this site. A lot of great information. All national grocery chains are represented, even Whole Foods and Trader Joe's.
JANE4Girls couponing blog
- This woman is a coupon queen, and has an annual grocery budget of just $800. No, that is not a typo,
$66.67 a month
for groceries, and that includes eating out. She shows you how she does it in her blog, and she holds couponing classes in her area to teach others how to save like she does.
The Year of Frugal Living
- She is a recently separated mother and decided she needed to get her finances under control. And she blogged about it in detail. The ups and downs of unexpected expenses (and trying to make them
expected
expenses in her budget), the hurt of no child support (or late support), paying off credit cards and trying to become debt-free. She is honest about the journey, and is inspiring to boot.
I think that's all the time I have to share with you today (my kitchen floor has been put off long enough). I will give you a blog post with my cooking and recipe links in the near future, but there are so many (!) I think it deserves its own post. I hope you have found at least some of the websites above as inspiring and informative as I have. I have some homesteading/survivalist/simple living/green living websites that are worthy of mentioning, also worthy of its own post. Hubs birthday pictures will have to go in that post, since he got new butchering equipment as gifts from the kids. Yes, I am serious about butchering that deer this year. Hunting season opens in two weeks-but hubs almost brought in a 6-pointer last night when it refused to move off of our road last night.
Right, the floor calls... *help me, I'm covered in yuck!* can you hear it too? Until next time...
Current Mood:

cheerful
Last year, I was charged with making my first gluten-free Thanksgiving for the IL's who were visiting. And even though i was still new to the world of GF cooking, I managed a meal with turkey, gravy, potatoes, GF cornbread stuffing, biscuits, salad, creamed peas, tomato soup, and peanut butter balls for dessert. It was delicious, and went off without a hitch, but something was noticably absent. No cranberries.
I don't do jellies (yet-i need to learn how to can), and with so much food on our plates I decided not to experiment with my favorite Thanksgiving Day food-the cranberry bread. I love this stuff--and I swear that it helped me fend off a pneumonia episode when I was a poor college student. This stuff is delicious, crumbly, chock full of vitamin C and anti-oxidents, "It's good for you food that tastes good" (I sound like the commercial! LOL). It had been two years since I was able to eat this stuff, and I was having a serious craving after I found a bag of cranberries on sale for 99cents.
So I sat down, read a recipe I got from mom a thousand years ago. Then read the one on the back of the bag of cranberries. Then read some directions on a GF quick bread. Then read about the reaction of baking powder vs. soda in baking and how they react with acids of the juice. Then I thought about the remembered texture of the bread and decided that it would be pretty easy to change into a GF recipe.
So, without further ado, my thanksgiving contribution to the GF world... A GF version of Cranberry-Nut Bread. Enjoy.
----------------------------------------
----------------
Gluten-Free Cranberry Nut Bread
-an adaptation of the Ocean Spray recipe.
1 1/2 c. cranberries, coarsly chopped
1/2 c. chopped nuts (I prefer pecans)
1 tablespoon grated orange peel
2/3 c. sorghum flour
2/3 c. potato starch
2/3 c. tapioca flour
1 c. white sugar
2 t. baking powder
3/4 t. salt
1/2 t. baking soda
1/2 t. xanthan gum
3/4 c. orange juice
3 T. oil (any type of liquid oil will work here)
1 egg
Prep the first three ingredients and set aside. I use a food processor for the cranberries, and I pulse it just a few times to chop them into quarters. Turn on the oven to 350.
Mix all of the dry ingredients together in a bowl until throughly blended and make a well in the center. In a separate small bowl, lightly whisk orange juice, orange peel, oil and egg together. Pour wet into dry and mix with a rubber scraper. When combined, fold in the cranberries and nuts all at once. Immediatly pour into a greased loaf pan and place in a preheated 350 degree oven. After 45 minutes, check bread for doneness, but I had to let it go for another 7-8 minutes until a toothpick came out clean.
I hope that you find this delicious like I did. Notes on substitutions below.
Substitution notes: I used regular corn oil for this recipe, but any type of liquid oil would work (sunflower, canola, etc). Do not use olive oil. I used regular white cane sugar for this recipe. It reacts with the orange juice and potato starch to form the top crust on the bread, do not substitute with any artificial sugars or liquids like honey. Organic raw sugar may be used as a substitute (and can be sprinkled on top for an extra delicious crunch). For the nuts-I prefer pecans, but walnuts be be substituted, or they may be eliminated all together. Be sure to wash the orange well before grating the peel. I lived in Arizona as a girl and we would use fresh, local citrus when making this bread; but in Kansas I have to make sure that the fruit I use is clean, so I wash it with Fit to get the wax coating off.
The best part of the holidays is the food. The cookie baking marathons, the pies, the quick breads, the rolls, the turkey, the potatoes, the cranberries... Mmmm.
Current Mood:

accomplished


This week's trip will include Kroger Cheese ($1.68/8 oz), more Quaker Oats (the date on these is Aug2010), Quakes Rice Cakes (looking for the q for this deal-they should also be free after q), Glade Candles ($1.50off/two q's, makes them $1.25each), Nestle Tollhouse morsels ($1 a bag after q), free Colgate toothbrushes (toothpaste is also free, but I already have a ton), Welch's Grape juice ($1.50 a bottle after q), C&H white sugar ($1.30 after doubled q), and some more yeast packets (see previous post for the moneymaking deal!).

I'll have to run by Ron's tonight to pick up their flyer to see if I can match any of their sales this week.

Oh-also worthy of note--I just found out (via a couponing forum) that Muir Glen tomato sauce in 8oz cans are (regular price) $0.99/can at Whole Foods. There are $1 off any Muir Glen products out right now (I have about 25q's), making these a penny moneymaker (take your own bag in for another $0.05 credit). Hopefully I can get up to KC for a grocery run before my q's expire so I can do this deal (I'll put the overage toward the Envirokids Vanilla cookies).

I'll have a craft post later today (with pics) and another post showing off a BIG GIRL milestone for both of the girls (that one will probably wait until tomorrow though).

Also--I will have a Walgreens bargain post later. But there will be bitching about the bargain-blocker manager, and I'm not sure how much complaining I want to do about her...

And I have some food porn, ahem, new gluten-free recipes to post. I have too many things I want to accomplish, and not enough time to do all of it.

Till later...
The Dillon's sale is going on for another week. Woot! I went back last night, not knowing the sale was going to be extended another week, and got some more free milk, Crisco Oil ($1 off q's-make it $1.50 bottle, dates are thru June2010), and Quaker Oats ($0.50 a can after q's-retail $2.99).

I'm on a bargain high! LOL I have been watching sales and matching coupons to sales, and doing a pretty good job of it-saving us on average about 60% on our toiletries, and about 40% on our groceries. That 40% savings is hard work too since our special GF/health foods don't typically have coupons available to use.

DIllon's (a Kroger store) is having a super sale this week, buy 10 participating items and get $5 off automatically at the register. You have to buy the items within their price grouping (example: 10 items for $10, get $5 off at register, making it $5 total; also 10 for $15, 10 for $20, 10 for $25, 10 for $30, all with additional $5 off at register), and they don't care if you use coupons (which they double) to get the total. Hehehe.

I started using canned milk for cooking again-we eat a lot of soups, GF mac and cheese, and I cook with milk in recipes to add calories into Kate's food where ever I can. This also brought our fresh milk usage down from 4+gallons a week to 2.5 gallons a week. They are a part of the sale at Dillon's this week--10 for $10, get $5 back at register. The coupons are $0.50 off 2 cans (then doubled) making each can free.

Similarly, Hunt's canned tomato products in the huge 28oz cans are 10 for $15, get $5 back ($1 a can after that discount). I have coupons for $0.40 off of 2 cans (then doubled), makes each can $0.60! The retail price on these cans are $1.99 at Dillon's, and $2.29 at Ron's!

I had also discovered a smaller, unadvertised deal earlier in the week. I had found some Fleichman's yeast coupons ($0.45 off a strip or jar), and had saved them, since we have to make our own bread (and that brand of yeast is GF). I noticed the strips were marked down a little in Dillon's when I was there Thursday, so I grabbed my coupons and bought a couple. The retail price was $2.15 a strip, on sale for $1.69. The coupons doubled made the out-of-pocket price $0.79--which is about $0.25 a use, a better price than the jars. I went to check out, and the catalina machine started spitting out coupons for each strip I bought--$0.50 cents off your next purchase at Dillon's (no other restrictions-not a product coupon, just "Dillon's Dollars"). "Holy Crap" I thought, that makes those strips $0.29 each! Awesome deal, $0.10 a use! So I grabbed the rest of my coupons (I had 11 total, I think), and was rewarded with more free Dillon's money.

So I went in Sunday afternoon with my coupon pouch ready, and hit it up. Here's what I bought on the first pass.

4 Welch's Grape Juice ($1 off coupons)
3 Breyer's Ice Cream ($0.50 off coupon, doubled)
3 Johnson's Baby Wash ($1 off coupons)
10 Carnation canned Milk ($0.50 off 2 cans, doubled)
1 20oz Pepsi (Hey-bargain hunting is hard work!)

The juice, ice cream and body wash was a 10 for $30, get $5 back deal, so before coupons, those prices were supposed to be $2.50 each. I messed up the deal and bought a carton of ice cream that wasn't a part of the deal, so i missed out on that $5 discount (bummer). I didn't notice when checking out however, because as I was watching the cashier run the coupons, I handed her all the manuf coupons, and she ran them (correctly). Then I handed her the Dillon's Dollars - I had $5.50 worth. They were doubled! So I had $11 in FREE MONEY to use (since we are keeping track-that means they paid me $0.19 per strip. My total was $12.83 with tax, but it should have been $7.83 had I bought the right damn ice cream. The retail price on these groceries was $66.45 for a total savings of 83% (the corrected total savings would have been 88%!).

See, my upper level math skills are being put to good use--this is much better than struggling through calculus. I have always preferred word problems anyway.

I wanted to make a second run through to get another round of milks and tomatoes, so I did it again, this time without the free money coupons...

10 cans Hunt's 28 oz canned Tomatoes ($0.40 off 2 cans, doubled)
10 cans Carnation Milk ($0.50 off 2 cans, doubled)
2 cans Argo Corn Starch (sale price plus $0.45 coupon, doubled)
2 Kroger French Vanilla Instant Pudding (sale 2/$1)
1 pack Extra Bubble Gum (clearance tub find! $0.50-a good school behavior reward)

This total after sale discounts and coupons was $10.57, retail price was $40.17, for a savings total of 77%.

So I got tons of food from Dillon's for $23 bux. And i think I'll go back for some more yeast packets, another round of free milk (I have 14 more coupons), Kix and Trix are also a part of the sale ($1.15/box after coupon), along with Nestle Tollhouse morsels ($1.25 bag after coupons), Colgate toothpaste and toothbrushes (free after coupon), Quaker Oats (also nearly free w coupon), and Viva paper towels ($0.50/roll for Big Roll).


There is also a list of super-bargains available at Walmart. Kotex pantyliners are $1-and there are always $0.75 off coupons for the liners, or $1 off any Kotex pads (liners count as pads)--making them either $0.25 or FREE per package. Whisker Lickin's cat treats are $1.07 per package, and there are $1 off per package coupons available, making these $0.07 a package. Johnson and Johnson "Buddies" bar soap are $0.97 a piece, and there are always $1 off (or this time, $3 off 3 items) coupons available, making these a small moneymaker. Chex is on seasonal sale until the end of the year (Chex mix!) for 3 for $5 (typically $3.53 a box), and there is a coupon available for $1 off 2 boxes, making each box $1.16 after coupon (a 67% savings off retail). This is a great deal for us, since Rice Chex is one of the only mainstream cereals that are GF. My pantry is full of pretty blue boxes, LOL. Also, they just marked down their Philadelphia Cream Cheese (from $1.92 to $1.18), and there is a $0.50 of two packages, making them $0.93 each. I am hoping this goes on sale at one of the other stores, so this coupon doubles, but a $1 off savings is great! (This is $2.09 retail at Ron's, $1.99 at Dillons).

Four weeks ago, there was a deal on Ragu spaghetti sauce at Ron's--$1.19 a jar. I had $1 off 2 jars, making these $0.69 a jar. I'm able to buy our Van's GF waffles there also, and I found $1 off coupons for them, making them the same price as the Eggo's. They sent me a free turkey card that I need to go cash in still, and get the Bird's Eye frozen spinich that is $0.60 a package after coupon. If they run the 99cent sale again, the Birds Eye frozen veggies will be $0.29 a package. They ran this sale two weeks ago, I am hoping they run it again before Thanksgiving. Our freezer will be full to bursting.

For meat, we will be buying a quarter cow-raised on a farm 8 miles from here, non-antibiotic, non-hormone beef for $3.50 a pound. We will hopefully also have a deer at the conclusion of hunting season, possibly two that we will be butchering ourselves. Last month, there were Tyson Fresh Chicken coupons out, so I used those to stock up on chicken breasts, thighs and whole chickens.

I try really hard to save money on our groceries, and I want to thank Dad for teaching me that these little slips of paper were as good as money, and to the different websites that taught me the sale cycles and the coupon lists and clipping services. It's worth the little bit of time it takes when the free food walks in the door.